World Anvil Weekly Twitch Stream
2018 05 25, 08:22
Watch us live to learn about what's going on and maybe win some raffle prizes!
Latest News & Updates
World Anvil Weekly Twitch Stream
2018 05 25, 08:22
stream
Come watch us live!

Tune in to our weekly Twtich livestream for news on the latest developments and what's been happening on WorldAnvil this week! We announce challenge winners, give sneak-releases of new challenges, and have raffles too! Will you join us?

When: : Saturday 20:00 BST

Where: : www.twitch.tv/worldanvil

Don't miss it!

World Anvil Milestone and Feature Filled Video for GMs
2018 05 24, 20:58
announcement
Calling all Game Masters!

Once upon a time, WorldAnvil went live on October 25th 2017. Seven months later the site and community has massively grown, with over 200,000 articles and 55,000 users as of today!

To mark this cornerstone, Dimitris and Janet have put together a vid summarizing all of the features so far, especially for you Game Masters out there.


Game on and happy worldbuilding Anvilites!

New Feature: BBCode in Comments
2018 05 24, 03:10
feature
enhancement
With force and flame, a fresh new feature emerges!

The comments section in articles now accepts BBCode! Go crazy and wild! (Just please don't break the website, thank you. :p)

We also have a couple of enhancements and added content!

Article Editing:
-In the Edit Article page, the Categories drop down list is now ordered by name.

Location Article Editing:
-Added the location type 'Shop, Magic'. (Because magical items need a place to stay before finding their forever home too!)

Notes Editing:
-You can now set an Article to a Note in your Notebook

We are looking forward to seeing more of your worlds and the might of your craft!

~The World Anvil Team
Categories Enhancement: Quality of Life improvements
2018 05 21, 05:58
enhancement
We've struck while the iron is hot!

- Saving changes on a category reloads the category edit page. Saving changes used to redirect to the category list. No more going back and forth!
-Added link to the category list to view a category.


- The list of Articles in the Category edit screen now has links to Edit and View the article.


Now go forth with upgraded tools in hand!

Development Announcement
2018 05 19, 04:43
feature
Hear ye hear ye!
The following features are fresh off the forge:
Article List:
-Delete articles without having to go to the edit page.
-Drafts now appear on top.
Article Workflow:
No more separate instances of a 'new' and 'edit' page for articles. Just 'edit', giving you direct access to notes, secrets and relations. A newly created article will always be a draft.
(This is a precursor to autosaving and a lot more!)
Timelines:
-All Article Timelines have been safely converted into Parallel Timelines. (No more Article Timelines)
Previously
Currently
-Choose if a timeline is a Major (previously known as Master) or Normal (previously known as Parallel) timeline.
-Ability to assign an article to EACH timeline.
-Choose if a timeline will show or not on the World's homepage.
[GUILD ONLY
]
-You can no longer create Historical Events in the Timeline edit screen. Instead, you create them from the
Historical Events
tab and assign them to an existing timeline.
-Browse a list of all Historical Events in your world.
-You can now have free-standing historical events (No timeline required).
-The Timelines page has been redesigned.

Bear ye well these updates in mind and through your efforts help spread glad tidings!

World Anvil Weekly Twitch Stream
2018 05 18, 11:41
stream
Tune in to our weekly Twtich livestream for news on the latest developments and what's been happening on WorldAnvil this week! - Plus, TWO announcements on our latest challenge winners!


When: : Saturday 20:00 BST

Where: : www.twitch.tv/worldanvil

Don't miss it!
Military Formation Template and Organization Military tab
2018 05 15, 14:50
feature
The New Military Formation Template is here AND The Organizations now have a "Military" Tab
Use the new Military formation to create the templates/type of military units (organizations) of your world!
Assign Formations to your Organizations!
For example:



Formation: Roman Legion
Organization: The 13th Legion (of formation type: Legion)




Formation: Panzer Division
Organization: 5th Panzer Division "The Ice Breakers"




Formation: Bomber Squadron
Organization: 32nd Squadron "The Dambusters"



World's End Inn Adventuring Supplies is now OPEN!
2018 05 12, 20:03
shop
The official WorldAnvil shop is now open! Click the Shop tab at the top of the screen or check it out here!
World Anvil Weekly Twitch Stream
2018 05 11, 17:21
twitch stream
Tune in to our weekly Twtich livestream for some exciting news, info on the latest developments AND take part in our raffles in stream!


When: : Saturday 20:00 BST

Where: : www.twitch.tv/worldanvil

Don't miss it!
New template: Ranks & Titles
2018 05 10, 14:06
feature
---

It's finally here! Write about the different ranks and titles of your world, from the Duke of Benidorm to the Emperor of the Galaxy, and also any profession you could think of. Assign your titles to Characters and Organizations and more!

New templates: Document AND the much anticipated Prose template
2018 05 07, 12:01
feature
---

They are both here! The Document template will help you write about the Tomes of Knowledge and Magic in your world, the Important Diplomatic treaties and so much more!


The prose template has no sidebar and allows you to change the colour of the background from black to white and the copy vice versa AND to change the size of the font to create the easiest reading experience possible

World Anvil weekly Twitch stream TODAY 20:00 BST
2018 05 05, 13:23
livestream
Tune in to our weekly Twtich livestream today for some exciting news, info on the latest developments AND take part in our raffle in stream!


When: : Today, Saturday 20:00 BST

Where: : www.twitch.tv/worldanvil

Don't miss it!
The Spell & Condition Templates are live!
2018 05 04, 09:37
feature
For your spell casting, plagues and vampirism needs


The Spell and Condition templates are the two new additions to the arsenal of templates of World Anvil and will cover the much requested need for the ability to create articles on the subjects above with proper connections with related articles and an array of prompts to help you expand on these topics!

Celebrating 6 months of WorldAnvil!
2018 04 25, 17:01
WorldAnvil
6months
anniversary
celebration





Today we are celebrating 6 months of World Anvil!


We are so grateful for our growing creative community, we have all achieved so much in half a year!
Worlds have grown, features have been added and there are more exciting features ahead!


Check out what's in store on the roadmap!
Item & Tradition Template Enhancement
2018 04 25, 08:00
enhancement
The Item and Tradition templates just got a a much needed re-innovation and they just the first two! We will be going through all our templates, organizing and adding a plethora of new enhancements!

Item Template
- Added: Manufacturer (Organization)
- Added: Related Ethnicities
- Added: Inner Workings / Mechanics
- Added: Related Technology (Tech Tree Coming SOON)
Tradition Template
- Added Names, Unisex
- Added Birth/Baptismal Rights
- Added Coming of Age Rights
New Theme: Rust
2018 04 25, 05:47
theme
Dark gloomy, rusty grungy deliciousness, created by Oneriwien rust is the best dark theme with can think of for your militaristic or post apocalyptic setting!
Join the Guild! Get access to all the incredible themes and the ability to modify them using CSS
Articles Interface v.2.0 Drop 1
2018 04 23, 10:46
feature
Seeing the importance of having a clean and not clutter layout I have redesigned the the create and edit pages for articles. This is only the first drop/change of the update. The goal is to go through all the templates and clean up their design in order to homogenize it and make them easier to use.


In addition to this and in light of our Festive Gathering competition the Tradition/Ritual template got a much-needed update. You can now add



Tradition History


Execution


Participation


Observance


and Related Location


Community Page update
2018 04 13, 10:39
enhancement
Featured articles are back on the Dashboard - Also the Community homepage should now be much faster to load
New Theme: Opulent
2018 04 10, 10:38
enhancement
Opulent by our amazing TJTrewin


Character Relations
2018 04 10, 10:36
feature
You can now create relations between your characters and expand on what makes them tick and their importance


Copy to clipboard from the Image gallery
2018 04 07, 10:35
enhancement
In order to make it easier to embed images into your articles you can now copy to Clipboard for Image BBCode from the Image Gallery
New Theme: Zen
2018 04 07, 10:33
enhancement
New Theme: Your World, Darkly
2018 04 07, 10:33
enhancement


Once again, a great thank you to Oneriwien for his amazing work.
New Theme: S C R I P T U R E
2018 04 06, 10:32
enhancement
For the refined ladies and gentlemen of the medieval times.
Hail @WhiteMace for the contribution


Map Legends
2018 04 06, 10:29
enhancement
Your maps now have a legend that you can add, details, information, links and everything else that will give them context
THEMES THEMES THEMES
2018 04 06, 10:28
feature
You don't have CSS skills? You want a cool design for your world that doesn't fit the default theme?
YOU CAN NOW CHOOSE FROM 2 NEW THEMES
World > Configuration > Theme

We are starting with two amazing themes created by @Oneriwien | Survive

- Stars (Science Fiction, Dark)
- Notebook (Generic, Light, Clean)


Drag & Drop Article Ordering in a category
2018 04 05, 10:27
feature
a. Go to Category List
b. Edit category
c. Order articles
d. Done


The 4th DDoS Attack
2018 04 04, 10:26
announcement
We have experienced another minor DDoS Attack the website is backup! :( Some people just don't like us.
But all seems to be OK now
Drag and Drop Placement AND ordering for Categories.
2018 04 04, 10:25
feature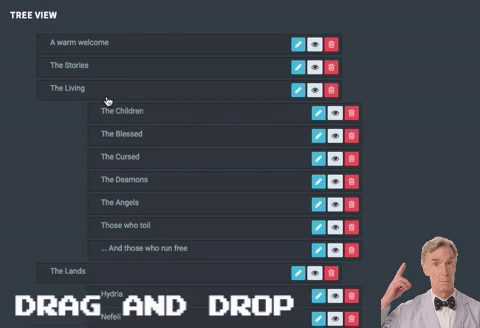 In-article comments [GUILD ONLY FEATURE]
2018 04 04, 10:09
enhancement
Use /* any text in here */
to create comments IN your articles which don't display on the presentation mode
Article List v.2.0 is here!
2018 04 03, 10:22
feature
Now you can
- Select all article checkboxes
- See the Number of Comments
- See the Number of Views (mouseover Favourites)
- Search by Tags
- View article Publication state (Draft/Published) [redesign]
- View article Privacy state (Public/Private) [redesign]
- Rename article by clicking on name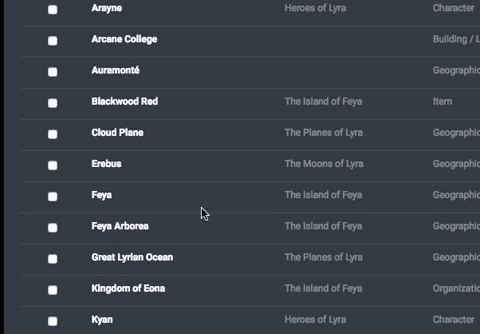 Also now:
- Articles list now auto-resizes to fit all screens as possible
- Change Draft / Published by clicking
- Change Public / Private by clicking (guild only)



RPG Spellbook, Arms and Abilities system
2018 03 29, 10:20
feature
New Mentions system
2018 03 28, 10:18
feature
Now you can write and connect articles with no highlighting allowing direct change of the link's name.

To make everybody's life easier I also added buttons for the most commonly used WABBC (World Anvil Bulletin Board codes)
New Author's page and GIFs
2018 03 26, 10:17
enhancement
We have done a slight redesign of Author's page and now you are able to upload GIFs as well!
The Campaign Manager is here!
2018 03 24, 10:13
feature
Version 0.50-Behemoth is now LIVE
And with it:
- Player / Author / Storyteller accounts
- RPG CAMPAIGN MANAGER
- Styling update
- Tens of minor enhancements


Learn more
RPG Report update
2018 03 18, 10:12
enhancement
Primary and Secondary locations in RPG reports now have a reverse reference from the Location page leading back to the RPG report.
Additions to the Species Template
2018 03 18, 10:12
enhancement
Added Domestication, Biological Cycle, Growth rate, Uses - Byproducts & Exploitation
Ability to Delete Comments
2018 03 18, 10:11
enhancement
You can delete your own comment, comment on your articles (by anyone). Moderators can delete any comment unless it has replies under it
Goodnight Master Storyteller, it has been 3 years now :(
2018 03 12, 10:37
announcement

"Stories of imagination tend to upset those without one."

― Terry Pratchett



World Builders of the world, go upset people and create imagination-fuelled havoc!

Remember the master story tellers of the past, honour them with your work!

Image and Webpage Block
2018 03 10, 10:11
feature
Are you playing a game that World Anvil doesn't have a sheet for?
NO PROBLEM.
Use the Generic, Image
- Upload image
- Create Image Block
- Enter the ID of the image in the block
- Add to the block table or description below anything else you want
- DONE